License plate recognition system
Phone for information and reservations 0722-777302

DynamicLpr Professional license plate recognition system
DYNAMICLPR is a system for managing and controlling vehicles by identifying license plates. After the license plate is photographed and scanned, a registration is sent that is transferred to the database with a time date and additional information. With the help of the system it is possible to store data about vehicles entering the secure compound and share the information with other systems and analyze it by third party systems. In addition, the system allows you to perform various operations. Once a license plate has been identified, you can receive an immediate response and warning when identifying a suspicious vehicle, etc.


NetWork I/O support


I/O Edge Device Support


Network base Tcp/IP


CLIENT / SERVER


Remote management interface


Android / Iphone interface


LPR Camera


Remote installation Free Service

Night photography in difficult conditions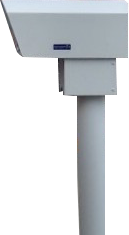 Fill out the form and we will get back to you soon.
Mobile app

WEB interface

DEKSTOP interface

Without monthly costs

No need for cloud connection and no cloud costs
Parking management

Parking management within a parking lot

Company management

Restriction of parking for the company

Management of apartment parking
Automatically detect fraud scenarios

PUSH alerts for mobile

SMS alerts

Email alerts

Video recording and camera management interface
Guest management

Remote opening for guests

Alerts to each tenant individually on guest vehicles

Blue and white development

Client / Service
DYNAMICLPR – Control and management system for identification of license plates, access control system for opening gates and checkpoints for residential towers, factories, parking lots and sensitive areas The




system is adapted for truck weighing systems,
Blue and white Israeli development up to about 99% identification
Includes an HTTP API that goes through developers for connection to third-party systems
New !!! A new and unique module for detecting fraud scenarios such as: manually attaching a license plate to a camera or displaying an invalid number, printing a computerized number on various materials, etc. – the system detects the fraud attempt in real time by a unique algorithm and immediately alerts the relevant parties. – Unique and exclusive development for the dynamiclpr system
Interested in getting a demo of the system for 14 days without obligation, I will leave details and a representative will be back soon 
* The system can be installed on existing equipment for demonstration purposes (after performing a fit test of the equipment)
Kingdom
Ukraine
Uruguay
Uzbekistan
Venezuela
Vietnam
Singapore
Slovakia
Slovenia
South Africa
Spain
Sri Lanka
Sweden
Switzerland
Turkey
United
Peru
Poland
Portugal
Puerto Rico
Republic of the Congo
Romania
Russia
Luxembourg
Malaysia
Myanmar
Namibia
Netherlands
Norway
Palestinian National Authority
Paraguay
Indonesia
Ireland
Israel
Italy
Jordan
Kazakhstan
Kenya
Latvia
Lebanon
Lithuania
France
Georgia
Germany
Ghana
Greece
Guatemala
Honduras
Hungary
Iceland
India
Republic of the Congo
Denmark
East Timor
Ecuador
El Salvador
Estonia
Finland
Cape Verde
Chile
Colombia
Costa Rica
Croatia
Cuba
Cyprus
Czech Republic
Democratic
Belgium
Bolivia
Bosnia and Herzegovina
Botswana
Brazil
Bulgaria
Cambodia
Cameroon
Canada
ישראל
Albania
Algeria
Argentina
Australia
Austria
Azerbaijan
Script Base on Event Trigger
LPR License Plate info image and car number
Trigger i/o
Support Telegram Event Trigger
Support Python Scripts
Remote Management By TelegramClient
The system operates with a physical or virtual sensor by motion detection

Virtual sensor:
The virtual sensor which is usually motion detection is activated by the camera that detects the movement of the vehicle, the system detects the license plate of the vehicle when it passes in the designated area of ​​the camera the system performs detection quickly and several times per second. The system scans the license plate and transfers it to the system database. The virtual sensor eliminates the use of additional external sensors, however a virtual sensor requires more processing of the server.

Physical sensor:
There are a number of phase sensors such as an infrared sensor or an inductive sensor placed on the track to detect the vehicle. The sensors are connected to an I / O unit that is connected to the system and alerts the software to detect a license plate in this way.

Third party database connection:
The system knows how to connect through an internal interface to an external database, send vehicle data and check for licenses.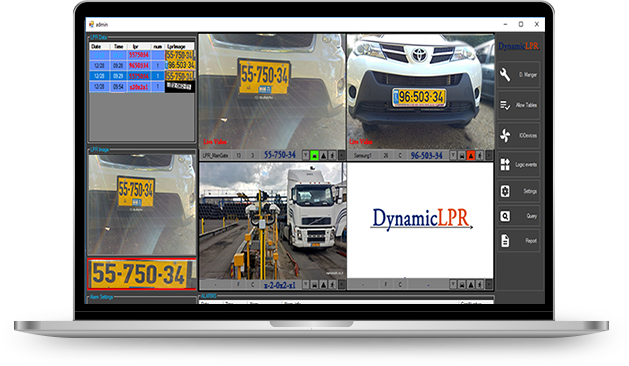 Opening gates and barriers by permission automatically

Smart management and control for entrances and exits of factories, settlements, kibbutzim, residential medals, parking lots and more

Dedicated interface and integration for truck weights, including automatic linking to weighing software or external software. Using a dedicated camera and detection sensors

Parking lot management – management and monitoring of vehicles at the entrance and exit of the parking lot combined with opening of a checkpoint according to permission and pre-defined schedules in the system. In the parking lot.

The system allows control for the entry of occasional guests' vehicles according to pre-set schedules and dates

Collection of tolls on toll roads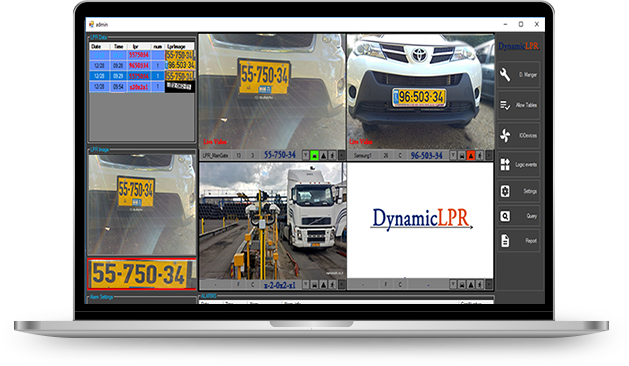 Receive real-time alerts about unauthorized vehicles / suspicious vehicles – option to receive puse notification to mobile

Event archive and advanced search – documentation of the entire identification process by saving the plate photo and more.

Advanced WEB interface for remote control management and control of the system

An advanced application for receiving alerts and opening a remote barrier by mobile

Advanced guest management module for residential / business buildings for managing entry and exit of guests from the parking lot, including a real-time alert for a guest arriving at the complex

Management and monitoring of vehicles at the entrance and exit of the parking lot with the opening of a checkpoint according to permission

Save on labor costs by switching to an automatic detection and opening system

Detection of plates at extremely high speeds

Eliminates the need and costs of purchasing signs, proximity cards, remote cell phone opening, etc.

Quick detection in particularly difficult situations of worn plates, screws in number, lack of number, direct sun

** Some models and interfaces are not included in the base package

New and unique development from Nanocom Advanced Systems for remote control and management
Professional license plate recognition for DynamicLpr system
The full combination of the two systems gives the customer maximum functional efficiency and flexibility
For the management of the vehicle identification system in the organization, including complete and effective control from anywhere
The interface does not require cloud dependency and connection (without the need for unnecessary payments for storage and connection to the cloud)
System properties

Director

Tenant / subscriber

Dedicated smartphone interface for the

Telegram

app

x

x

Addition and deletion of licenses including association with

authorized

tables

x

Learning and defining licenses according to geographical location

x

Opening a personal checkpoint proactively according to geographical location

x

x

Real-time mobile suspicious alerts

x

Manage user settings

x

Presentation of the last vehicle at the checkpoint

x

x

Full compatibility with Android and iPhone

x

x

Presenting a last vehicle to the checkpoint

x

x

Add guest + delete guest

x

x

Personal management for guest entry and real-time alert every guest arriving at the checkpoint

x

x

Identification and reporting by receiving a photo and vehicle details directly to the mobile

x

x

ללא תלות בתשלום חודשי ואחסון עבור ענן
x
x